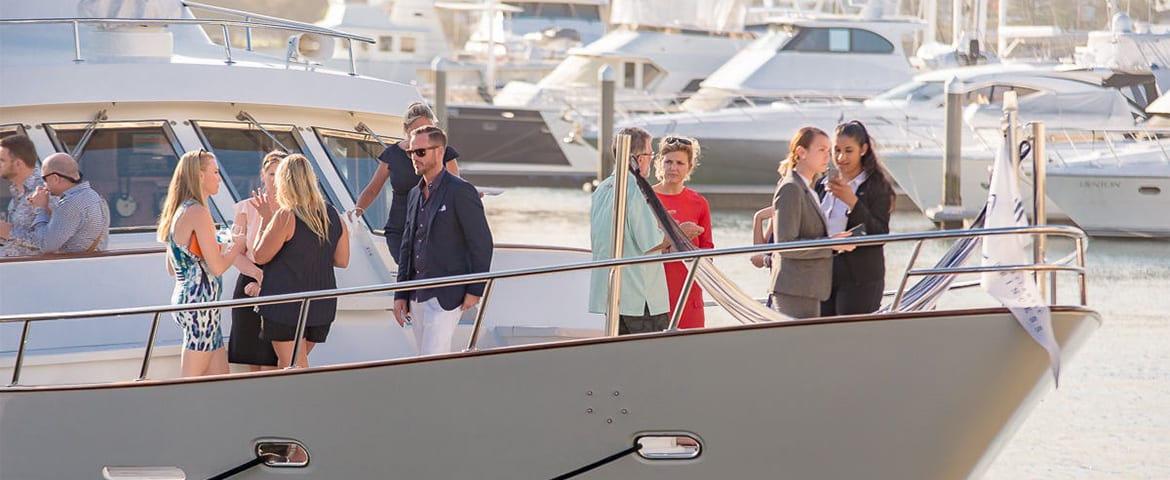 From VIP client functions to impress, to exclusive product launches or an employee incentive cruise to sophisticated private meetings, we can tailor a charter to meet your corporate requirements.
Waterline Charters creates bespoke corporate charter experiences, Patriot 1 and Phoenix One are the consummate entertainers with professional crew providing a truly 5-star experience, you will be proud to have your brand associated with.
Whether for a corporate incentive cruise, an intimate meeting in true privacy or a sophisticated product launch, we will assist you to tailor a charter that will have your clients talking about your company long after they disembark.
If you're looking to impress and reward your most valuable clients with a unique and memorable experience then Waterline Charters can assist you to create a VIP Cruise inspire. From the moment your guests step aboard their luxury super yacht, they will be delighted with the 5-star service, superb catering and premium beverages.
With opportunities to include a formal presentation, brand the yacht with your company logo or enjoy relaxed interactions we will tailor our service to suit your desired outcomes.
Treat your top performing employees to a day on the water with Waterline Charters luxury super yachts. Whether you want to create an incentive reward, thank long-standing valued employees or host your annual awards presentation on a super yacht we will work with you to customise a charter to suit.
From a full day itinerary to a four-hour evening cocktail cruise, your employees will enjoy the experience of cruising in sophisticated style. With full catering options available, we will take care of organising the details so you can relax and enjoy the charter.
Important meetings and presentations with impact, in luxurious privacy on the water: We offer you the advantage to leave a lasting impression. We can create an intimate, fully catered setting so you can relax and focus on business.
Our professional crew offer unobtrusive service and fine dining cruising the water at leisure ensuring your meeting is a success. Contact us to discuss your small group requirements.