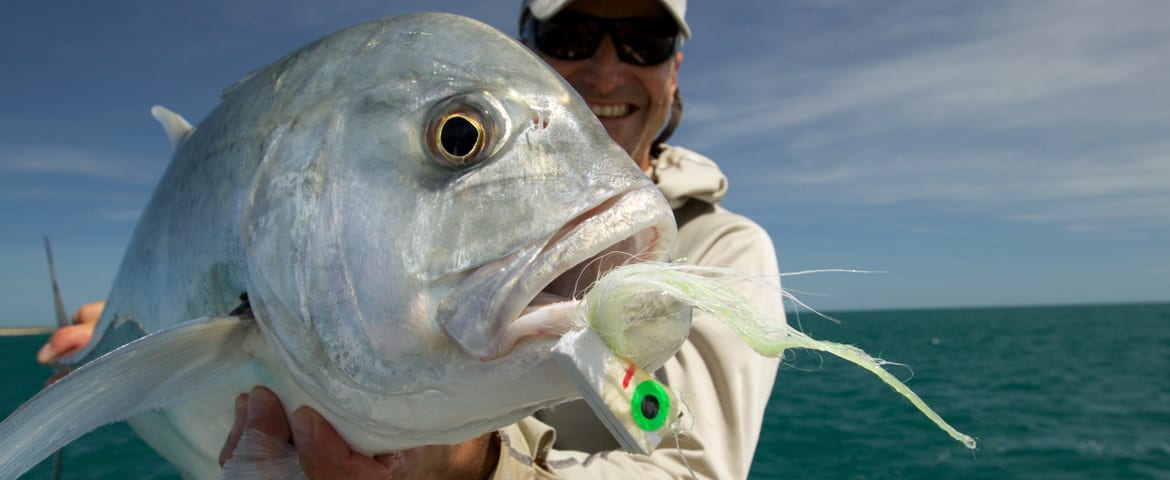 The vast Australian coastline offers some of the world's best fishing opportunities; deep sea, fly fishing or groves and estuaries - all from the comfort and convenience from your own private luxury yacht.
Waterline Charters offers three distinct fishing charter packages in Australia designed with your ease and comfort in mind. These all inclusive packages offer luxury fishing at it's best.
From deep sea fishing for Blue and Black Marlin on the Great Barrier Reef with the Cairns Marlin Fleet, to an adventure in the Northern Territory hunting Giant Barramundi, or Fly Fishing on the crystal clear flats of East Arnhem Land, join us for a luxury fishing adventure of a lifetime.
Prefer to customise your fishing charter? Let us work with you to tailor a charter to your preferred style and location.
Luxury Saltwater Fly Fishing
Phoenix One is the epitome of luxury saltwater fly fishing, let her crew expertly guide you along the pristine beaches and flats of East Arnhem Land in the Northern Territory. The remote, untouched beauty is only surpassed by the abundance and variety of species; exquisite sight fishing for Permit, Golden & Giant Trevally, Queenfish, Threadfin Salmon and many more great fighting fish.
Seven-night packages are available between April - August each year taking advantage of the ideal conditions after the wet season.
Luxury Barramundi Fishing
Join luxury superyacht Phoenix One, with professional guides taking you through the rivers, estuaries and rock bars on your fully equipped fishing dories to some of the Northern Territory's most pristine and remote fishing areas in search of Giant Barramundi, Queenfish, Threadfin Salmon, Giant Trevally, Mangrove Jack and many more…
Charters area available yearly between April and June, join us next season and join the '1 Metre Barra Club'
Phoenix One operate as a Mothership to the Cairns Marlin Fleet each year between September and November. Offering a home on the sea, relax in supreme comfort aboard your luxury yacht, complete with a personal chef to tailor menus to your preference.
Your expert Game Fishing Vessel will have you out on the water and reeling in an impressive catch each day, before returning to your Mothership for relaxed evenings at anchor sharing your stories of the days adventures.